So you want to work in fashion, but you don't know where to start. In our new fashion jobs series, we focus on the myriad of possible roles in the industry, from fashion publicists and designers, to stylists, editors, buyers and trend forecasters.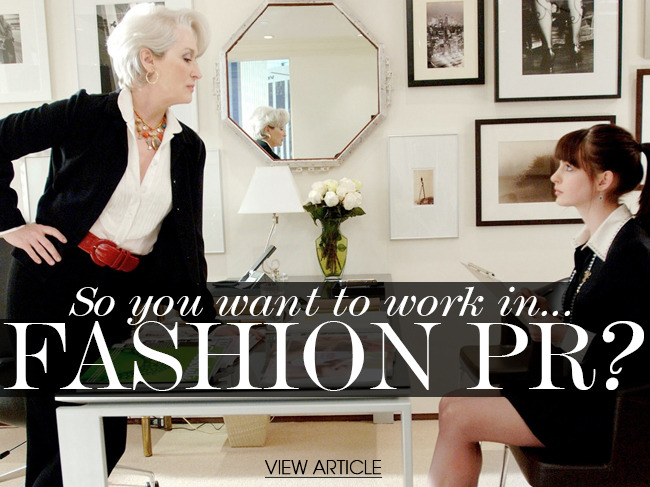 Each month, we will be profiling a different job in fashion and breaking it down for you: what training is required, what types of positions are available and what a typical day looks like, as well as interviewing an expert on what it takes to make it. To kick things off, we're looking at the role of a fashion publicist. Read on to get the lowdown and don't miss our exclusive interview with PR expert Juliana Pires of SHO + CO.
What does a fashion publicist do?
Fashion public relations entails the publicity of fashion brands, designers or retailers. Your job is to maintain a good brand image and help the company grow in the way they're looking to within the media and/or the celebrity world. From revamping a brand's image and increasing their media exposure to coordinating stylist pulls for shoots or celebrity clients, to planning events, it's a nonstop multi-faceted job.
What training do you need?
Typically, a college degree is required and then experience is key. You need to be a brilliant multitasker, super organized and work well with others. You also have to enjoy being social (working events means late nights), and an expert networker. A love and knowledge of fashion are also necessary, and it helps if you're a good writer (those press releases don't write themselves) and a social media whiz. Interning is a great way to gain valuable experience and make contacts in the industry, and is often how people land their first job. If you make a good impression and prove yourself to be reliable, responsible, presentable and hard working, it can open all sorts of doors.
What types of PR jobs are there?
The PR world is vast and there are multiple options, ranging from event public relations and VIP/celebrity services, to brand management, client services, digital public relations, brand consultancy, event production and account management. You can also either work for a PR firm that has multiple fashion clients and accounts, or work in-house for a specific brand.
What does the day-to-day job involve?
It depends on what kind of public relations you do and your experience level, but for an entry level position in the VIP services, here is what your day-to-day can look like:
-Waking up and checking your email to make sure you don't have anything urgent to tend to from New York and European clients.
-Monitoring the media (online and print) to see if any celebrities are wearing your client's product.
-Outreaching to stylists for upcoming events and dressing opportunities.
-Facilitating showroom pulls with stylist and editors.
-Gifting client product to celebrity and VIPs.
-Writing and sending out press releases to the media, of a celebrity wearing your client's product and notifying the client.
-Coordinating press and collection previews with stylists and editors.
-Sending out invites to media, press and celebrities for events (celebrity wrangling).
-Working the red carpet for events with the media and wire servies.
-Organizing client inventory, plus shipping and handling of samples in the showroom.
-Outreaching to stylists for events for upcoming dressing opportunities.
-Creating monthly status reports for clients.
Are there any perks?
Well, you're surrounded by gorgeous clothes all day, which is a bonus. Clients want you to be highly knowledgeable about their product, as well as representing them at various events, which can sometimes lead to free clothes and accessories (or, at the very least, you get to borrow them for an evening!). You also get to attend stylish, fun events, and work closely and cultivate relationships with celebrities and stylists. It's not all glamour and excitement, however - it's also a lot of hard graft. You must always appear professional, efficient and put-together, and while you get to attend chic fashion events, remember that you are there to work, not enjoy the party.