Everyone has a dream job. Whether it's the editor of Vogue, a studio boss or a professional blogger, we all know what we want career-wise, but we're not really sure how to get it. In our new interview series, we speak to people in enviable positions, to get their advice on what it takes to make it in the professional (and creative) worlds.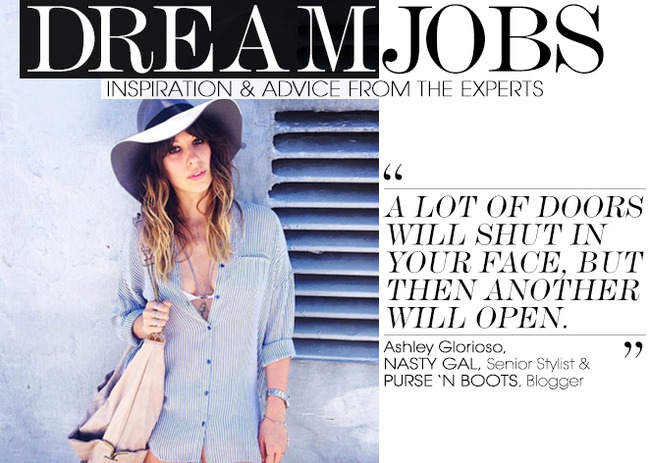 You may recognize this boho babe from her blog Purse 'n Boots, but what you probably don't know is where her true passion lies. Meet L.A. native Ashley Glorioso, the effortless beauty and head stylist at Nasty Gal.
Glorioso's laidback California style and personality really makes her shine. She's a mixture of rocker, tomboy and hippie, so you'll definitely find an array of fringe, crochet, lace, and leather in her closet. She has an eye for vintage and retro pieces, which translates into her standout work. When she's not styling for Nasty Gal, you can catch her name in the credits for brands like For Love and Lemons. Read on to find out how she's climbed her way to the top, and what advice she has for aspring stylists.
1. How did you get to where you are today?
Hard. Work. Pedal to the metal. No days off, no sleep, no weekends, and a smile on my face all the while. A good attitude will get you far!
2. What do you love most about your job?
The people! Everyone I work with is like my family - my coworkers, the models, hair and makeup...we all have a lot of fun together. It's important with such a demanding day-to-day to keep things light and fun. It's fashion! You can't ever take that too seriously.
3. What's a typical day like for you?
Non-stop! I get to the office, talk to hair and makeup about the look for the model we have in the studio that week, and then shoot, shoot, shoot! Preparing and styling looks for all the projects we have going on in addition to catalog imagery - lookbooks, blog content, videos, etc. Then I edit photos, pass them off to retouching, take some meetings and repeat!
4. What do you think is the biggest misconception about working in your industry?
That it's super easy and not hard work at all. Some days we have to shoot 50+ items of clothing on a model and let me tell you it's not an easy task!
5. What is your biggest accomplishment?
I've been part of a lot of great things: I've styled a billboard and a 2-page ad in a top national magazine over the past year. Also, just being part of the day-to-day at Nasty Gal is pretty awesome. I had the opportunity to style not only the cover(s) of our magazine, SUPER NASTY, but also a couple of big ol' stories on the inside! I don't only consider big projects accomplishments; sometimes, just making it through the day is an accomplishment!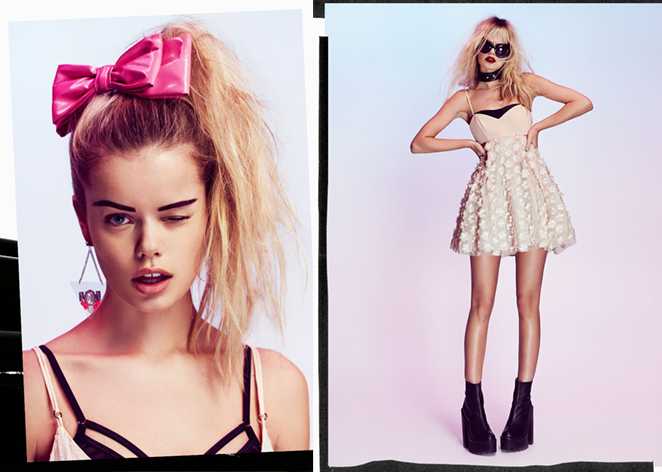 Nasty Gal's Anti Prom Lookbook (above), styled by Ashley Glorioso
6. You've got a busy schedule, how do you stay organized?
I'm not sure if I would even consider myself that organized! I use my phone a lot to stay organized - the calendar on my phone is all set up with everything I have going on and I set A LOT of reminders on that baby. I also use the note pad on my phone quite a bit!
7. What skills do you need to make it in the fashion world?
Thick skin! A lot of doors will shut in your face, but then another will open. You are never too good for any job, big or small. Maybe running for coffee seems really menial and awful but you should get that coffee for whoever it is you are getting it for - they may turn out to be your new boss or open the door you've been waiting for!
8. What's the best piece of career advice you've ever been given?
If you want something, you have to go out there and earn it! Nothing comes easy…unless you have a trust fund, and then I guess things are a little easier?
9. What advice would you give someone looking to break into fashion styling?
In the words of Drake, "Started from the bottom now we're here." I started working retail back in high school, and then just worked my way up the retail chain - sales, assistant manager, manager, merchandising, buying, then into e-commerce styling, all while networking along the way. While I was buying, I made friends with a lot of the girls that worked the showrooms and made a ton of connections with local designers. That is how I ended up styling with a lot of the people I do today! Do everything - every job, whether it interests you or not. You can never be too knowledgeable about your craft.
10. What are you looking forward to in the future? Any exciting new projects we should keep our eye out for?
I have no idea what lies ahead! I just take everything as it comes along and run with it. Nasty Gal is an exciting company that's growing by the minute and the opportunities I have here are endless!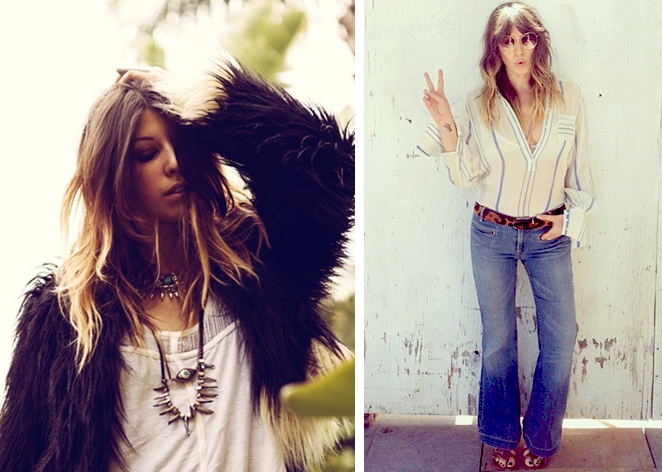 Follow Ashley Glorioso on Instagram (@pursenboots), where she shares her picture-perfect boho style (above) as well as some of her styling work.