Do you ever wonder what it takes to make it in the fashion public relations world? We sat down with Juliana Pires, an expert in VIP services, to see how she made it to the top.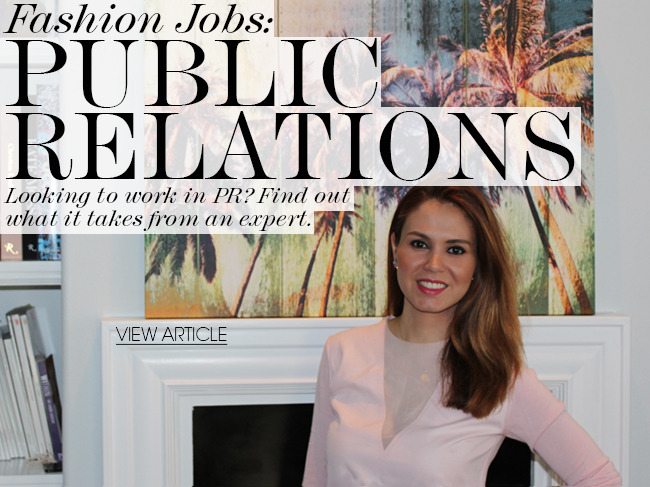 Starting her career in fashion in New York working for KCD and Stella McCartney, Juliana Pires shortly found herself in Los Angeles, where she launched the VIP division for well-known public relations agency Karla Otto. Introducing clients such as Emilio Pucci, Marni, Pringle of Scotland and Gianfranco Ferré to the stylist and celebrity world, as well as increasing their presence in the press, two years later she started her next chapter at Starworks Group, as the director of VIP services. There, she looked after Vivienne Westwood, Monique Lhuillier and ASOS, and helped facilitate countless red carpet moments on top celebrities from Angelina Jolie to Rihanna, at the Cannes Film Festival to the Oscars.
Juliana is currently vice president of VIP services at SHO + CO in Los Angeles, where she still works with some of the biggest fashion clients in the biz, including Thakoon, Monique Lhuillier, J Brand, Edie Parker, Stuart Weitzman, Max Mara and Donna Karan. We picked her brain on fashion PR in our Q&A below.
1. How did you get started in the industry?
It happened very organically. I interned a lot during college and knew I loved fashion. One internship led to another and I found myself really loving public relations and celebrity dressing. The rest is history.
2. School vs. experience. What is the best prep for getting an entry-level position in fashion PR? Internship or degree?
Honestly, both are necessary these days. The industry has become really competitive and employers are searching for the whole package. It is important to hire someone with both experience and a good attitude. Also, you want to ensure their verbal and writing skills are exceptional, so a degree is reassuring.
3. What's a typical day like for you?
I wake up pretty early, scan all of my emails on my iPhone and start to deal with sample requests from Europe and New York. No day is the same, but it's usually a mixture of stylist and talent appointments at the showroom, red carpet event fittings, client strategy calls, pitching stories to the media, client meetings and on occasion, a great event or industry dinner to end the day.
4. What's your favorite thing about your job?
Some of my favorite things about my job are that I work on a daily basis with inspiring, creative people, millions see the work we do and when celebrities wear our clients' pieces, it resonates globally. When I see the impact that this makes on clients' business and sales, it really validates the work we do every day. Also, I get to be surrounded by gorgeous clothes all day, which I do not take for granted.
5. What advice would you give to someone who is looking to break into fashion PR?
I would let them know that it is not as glamorous as it sounds. You need to be willing to really tackle anything and wear many hats. Attitude is everything and ultimately you just have to love fashion and want to grow and prove yourself daily. Ask a lot of questions and be willing to go above and beyond at all times.
6. What's the biggest misconception of working in fashion PR?
That it's glamorous. It's a lot of hard work, running around and it's not a 9 to 5 job. You need to be open to having a very flexible schedule and be available to clients after hours and sometimes, even on the weekends.
7. What skills do you need to be successful?
Drive and perseverance. Being proactive is a must. Clothes won't get placed on celebrities and stories won't run unless someone is pitching it. It's a competitive business and those who work hardest get ahead.
8. What's the best career advice you've ever been given?
You can never go wrong if your intentions are sincere. If you are working to get the best results for your client, you will get there. Never stop working or thinking outside the box. Really get to know and understand your client and always treat them individually with clear strategies and goals in mind.