We look for style inspiration everywhere, from the streets to the runway - sometimes even 14-year-old actresses like the ever-lovely Kiernan Shipka catch our eye. Read on to find out more about the "Mad Men" wunderkind, and why we're obsessed with her style.
Photo credit: Vanity Fair
Who is she: Shipka was cast in AMC's "Mad Men" as the rebellious and lovable Sally Draper when she was just six years old. Eight years later, she's grown into a stylish, poised and mature young screen star with two SAG awards under her belt. Her acting skills, much like her style, are well beyond her years. Currently, in the latest and final season of the show, Draper has already smoked, drank and challenged her deceptive father with an adult-like sensibility.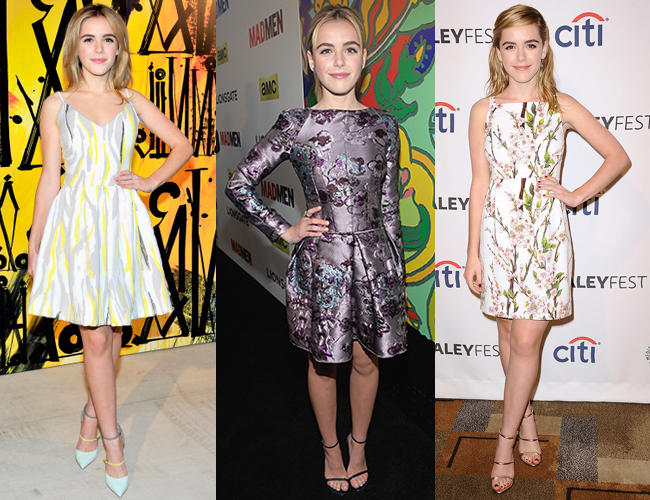 Photo credits: POPSUGAR, Elle, POPSUGAR
Why we love her: She's a force to be reckoned with in terms of talent, style and smarts. Her red carpet looks are always on-point and age-appropriate, which is quite impressive for a young up-and-comer. She even gives older, more vetted actresses a run for their money, shining in fit to a T dresses from the likes of Valentino, Nina Ricci and Delpozo. And, of course, her winning smile adds that rare bit of confidence that even a designer outfit can't offer. Judging from her seamless track record, we have no doubt of Shipka's shining future. With the end of "Mad Men" drawing near, we can't wait to see what she does (and wears) next! Follow her on Instagram for more fashion, food porn and celebrity cameos.
Photo credits: TFS, TFS, Celeb Daily News
What do you think of Shipka's style? Join the conversation, leave us a comment and let us know your thoughts. And make sure you check out our other style muses Emma Watson and Gilda Ambrosio for more inspiration!